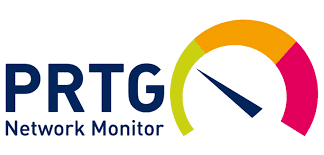 Monitor your entire IT infrastructure with PRTG Network Monitor. You have full insight into your network and its performance to ensure that all business-critical components of your IT infrastructure run smoothly.  Get an overview of thousands of devices and systems across multiple locations with PRTG Enterprise Monitor.

Monitoring The Easy Way
Agentless monitoring (not impacting monitored devices)
Integrated database, mail server, and web server
"Smart Setup" configuration wizard
Auto-discovery – immediate visualization of discovered devices
Preconfigured templates for common devices and applications
Automatic software updates
Simple and fair licensing model including an easy upgrade path
Data Publication
Drag & drop map editor for clear and powerful individualized dashboards
Integrated reporting engine with delivery as HTML, PDF, or CSV
Documented API for custom data export
Free apps for iOS and Android
Powerful interactive web interface
PRTG Desktop app (Windows/macOS) for viewing multiple PRTG installations in one dashboard
Monitoring of "Everything" with a single solution
Support for all common protocols (SNMP, WMI, ICMP, HTTP, MQTT, SOAP, SSH, FTP, SMTP, POP3, DICOM, HL7…)
Support for NetFlow v5/v9, sFlow, jFlow, IPFIX, and packet sniffing
Monitoring of hardware, software, virtual environments, and applications
Out-of-the-box support for leading IT vendors (Cisco, VMware, Hyper-V, Microsoft, HPE, Oracle, Juniper, HP, Amazon CloudWatch, Dell, APC, NetApp, Nutanix, Fujitsu…)
Agentless monitoring for Windows, Linux, and macOS
Flexible import of MIB data files of all vendors
RESTful API and custom sensors for monitoring non-standard devices and applications
Event log monitoring
Monitoring of multiple sites with one installation/license
Suitable for all industry verticals
Software Architecture
Designed for networks of all sizes
Integrated database optimized for monitoring data (no database server required)
Historic monitoring data stored in original intervals (raw data, not summarized)
Failover cluster functionality included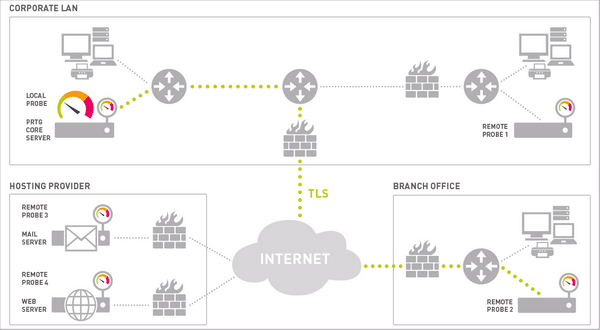 PRTG Support monitoring devices for multiple site. We can use a local probe for LAN monitoring  on premises or DC site. if you want to monitor remote location or more sites that a remote probe can help you to  monitoring and get more info & notification to Core Server DC site.
Contact : 
Email : sales@networks365.net
Line ID: @network365
Phone : 02-049-4059 , 081-657-0932